News wrap: Headlines in Oakland
(OAKLAND, CA) What's going on in Oakland? Here's a roundup of the top stories in the area today.
We've got you covered on the latest developments in your community. For more stories like these, click here.
LATEST NEWS
Oakland / localnewsmatters.org
Despite its diversity, Oakland leads region with most segregated neighborhoods
As diverse as Oakland is, its neighborhoods are extremely segregated, according to an update to a study by the University of California at Berkeley's Othering and Belonging Institute. Of the 10 most segregated Black neighborhoods in the Bay Area, six are in Oakland and of the 10 most segregated Hispanic... Read more
Comments

Blacks are very racists and generally hate white people more than white people hate blacks.
2 likes

Watch AK Nation, crime not getting reported on the news. That's why it's the crime!
LOCAL PICK
Oakland / therealnews.com
'Fighting to free our people': 55 years of the Black Panther Party
In October of 1966, the Black Panther Party was founded in Oakland, California. Since then, the Panthers have been a driving radical force for Black liberation, self-defense, and community organization and self-determination. In this special episode of Rattling the Bars commemorating the 55th anniversary of the founding of the BPP, TRNN Executive Producer and former Lieutenant of Security for the Baltimore chapter of the Black Panther Party Eddie Conway speaks with Black Panther Party archivist Bill Jennings about the legacy of the Panthers and how people are carrying on that legacy today. Read more
Comments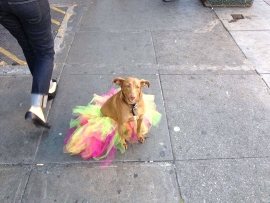 I don't think anyone is free, any longer, in America. As the great Native American Activist, and actor, Russell Means said, "We all all living on the Reservation now".
6 likes 1 reply

We don't Forget about recreating Black Wallstreet.Times to Build the New Black Ark Cyber City.Ain't Ya'll tired of "Playing White" Yet?
1 like 1 dislike 1 reply
LOCAL HEADLINE
San Francisco Bay Area / siliconvalley.com
Bay Area gasoline prices stay sky-high: COVID economy snapshot
Gasoline prices in the Bay Area rocketed to a sky-high level during September, according to a new government report released on Wednesday, a forbidding hint that inflation continues to haunt the region. Bay Area prices for unleaded gasoline soared by a whopping 35.2% over the one-year period that ended in... Read more
LOCAL FAVORITE
Oakland / sfchronicle.com
Cult-favorite vegan Mexican pop-up is opening a plant-based meat market in Oakland
Taqueria La Venganza, a vegan taco pop-up with an intensely loyal following, is opening a 100% plant-based carnicería, or Mexican meat market, in downtown Oakland. The market will open next month at 597 15th St. with soy-based meats and vegan cheeses by the pound, plus tamales, tacos and burritos. Owner Raul Medina hopes to supply taquerias and Mexican markets throughout the Bay Area and Southern California with vegan meats. Oakland's Taqueria El Cruzero uses his products in tacos and burritos, and hit taco truck Al Pastor Papi has served his vegan carne asada in the past. Read more