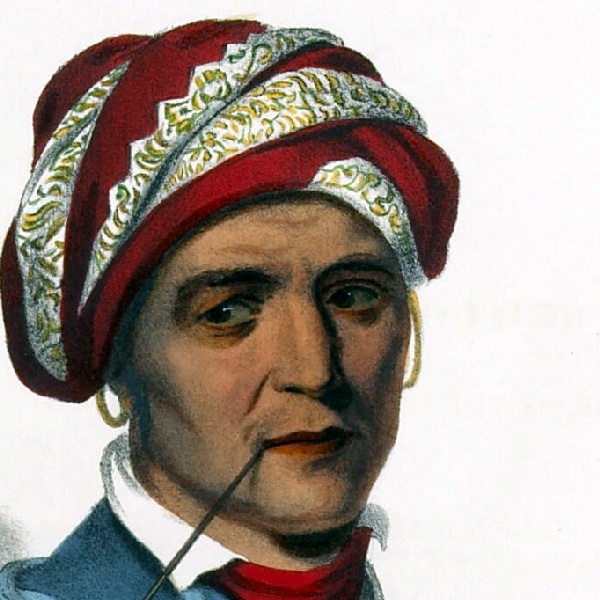 Sequoyah
Sequoyah (ᏍᏏᏉᏯ Ssiquoya, as he signed his name, or ᏎᏉᏯ Se-quo-ya, as is often spelled in Cherokee; named in English George Gist or George Guess) (c.1770–1843), was a Native American polymath of the Cherokee Nation. In 1821 he completed his independent creation of a Cherokee syllabary, making reading and writing in Cherokee possible. This was one of the very few times in recorded history that a member of a pre-literate people created an original, effective writing system (another example being Shong Lue Yang). After seeing its worth, the people of the Cherokee Nation rapidly began to use his syllabary and officially adopted it in 1825. Their literacy rate quickly surpassed that of surrounding European-American settlers.
Expand
Born
c. 1770 Tuskegee , Cherokee Nation (near present day Knoxville, Tennessee )
Birth Place
Tuskegee, Cherokee Nation (near present day Knoxville, Tennessee)[1]
Nationality
Cherokee , American
Also Known As
George Guess, George Gist
Famous As
Silversmith , blacksmith , educator , warrior , politician , inventor
Place Of Death
San Fernando de Rosa, Coahuila, Mexico (near present day Zaragoza, Coahuila, Mexico)
Spouse(s)
1st: Sally (maiden name unknown), 2nd: U-ti-yu , ᎤᏘᏳ
Children
Four with first wife, three with second
Expand
The goal of high school is to reach graduation prepared for the next step in life.
As Morgan Mainor stepped off the stage with diploma in hand Friday night, she was officially a graduate of Sequoyah High School.
Sequoyah School thanks all student panelists, faculty facilitators, and everyone who helped make Diversity, Equity and Inclusion (DEI) Day 2022 a tremendous success. This year's theme was Collective Liberation with panels on: Centering Latin American Women Writers, Identifying Solutions to Oppressive Structures that Dehumanize the LGBTQ+ Community, Centering Indigenous Voices, Dismantling Structures of Silencing Literature: Odyssey Rewritten, Language Access & Justice, Decentering Eurocentrism, and Continuing the Movement: Voices in LGBTQ+ Liberation.